~ by Freeman Wong ~
(with a few edits by Hoyt)
We five from Sacramento met Hoyt and about 15 other Nisei Ski Club members and friends at the Sutro Baths Visitor Center in San Francisco. We planned to hike to the old Sutro mansion site across the road, but since the fog was too thick for good views, we hiked down to the bath ruins before starting the headlands hike.  The weather was cool and the fog layer was just high enough to reveal most of the views along the headlands – perfect weather for a hike.
We took a spur off the main trail down to a labyrinth for some fun. Some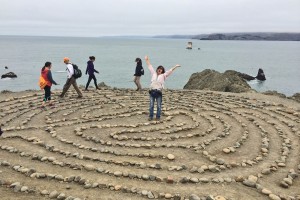 of us tried to follow the large labyrinth. I heard one person say she got dizzy
trying to get to the center but was very excited to get there.
We also hiked along El Camino Del Mar in the Sea Cliff district where we saw many multi-million dollar homes with views of the Golden gate Bridge from their backyards. We saw Robin Williams' old home where fans had left flowers and candles in his memory.  As we stopped at the Palace of the Legion of Honor*  on the way back, we were lucky enough to see 60 plus vintage motor scooters drive up and park for a meeting to display their scooters in front of the museum.
(* editor's note- did you know that the Palace of Legion of Honor is modeled after the  Musée National de la Légion d'honneur in Paris?)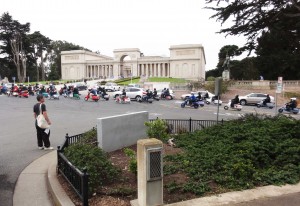 Just before ending our four hour hike, we stopped at the USS San Francisco Naval Memorial where we saw part of a damaged warship and signs about its history in WW II.
Thanks to Hoyt Nelson for leading us on another scenic and informative hike. Looking forward to another one soon!