MAY is membership renewal month!  Your NSC membership expires at the end of May.  Renew before the end of the end of the month and get a $5 discount for the 2013-14 membership year!  For you mathematically inclined, that's a 16.66% discount – try to get that kind of return on your mutual fund!!!  Click here for the membership form: >>membership form<<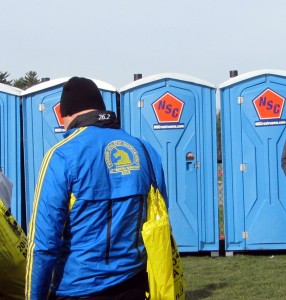 At this year's tragic Boston Marathon, the following  humorous sighting was made at the athlete's village at the starting town of Hopkington, adding a bit of levity for an otherwise unforgettably sad day.
On a happier note, we have Armand's President's Message and Membership Report which can be read here: >> President's Message<< and >> Membership Report <<.
Lastly, Curtis Otiguro reports on the Pinnacles National Monument hike. We in the San Francisco Bay Area are blessed with the proximity of  National Parks, Yosemite and the newest, Pinnacles, within easy driving distance.  Read Curtis' "Lure of the Pinnacles" and enjoy some armchair travelling!
REMEMBER – RENEW YOUR MEMBERSHIP!!!  Invite your family, friends & enemies to join!!! The more the merrier!