Welcome to Daylight Savings Time 2014!
Enjoy the extra sunlight hours!
The сочи Olympics are over and congrats to all the competitors, American and others.
Lots of ski & snowboarding news this month.  First off, we have President Armand's Membership and Sun Peaks report  and President's March Message  which includes highlights of the Sun Peaks week trip. Armand and Curtis are in Zermatt, Switzerland this week skiing with Far West Ski Association of which Nisei is a member, and by the transitive property, so are you!  I expect a full report from our Swiss Matterhorn skiers next month's newsletter.
Sun Peaks
Speaking of Sun Peaks…. David "Lambo" Miura has provided us with this Pulitzer Prize caliber report, perchance that's a bit hyperbolic, how about Great Bathroom reading worthy report, the "Lambo Sun Peaks Report".
It's been rumored that anytime Armand leads a trip, someone gets injured. Well…. I'll let you read Dave's report and see the pictures and you can see if this is a fair assessment.
Skiing Français
Your's truly, your intrepid N.E., spent a week at Serre Chevalier in the French Alpes in mid February.  Luckily for me, it had snowed considerably just before I arrived, so there was an abundance of deep snow.  Lots of "hors piste", trees and out of bounds skiing with a guide was done. Just to whet your appetite for Alpes skiing, here are some mountain stats: 63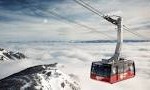 lifts & a vertical drop of 5,249 feet.  That's almost twice that of Squaw Valley's 2389′ and more than Jackson Hole's 4105′ – Did I mention Jackson Hole???? See Armand's President's message for the big red tram connection! And, I don't mean Heavenly Valley's tram.
Tahoe Weekend Trip (Feb 28-Mar 2)

Last weekend, 30 some odd ( and I do mean "ODD") Nisei and Monterey Drinking and Social MSSC Link), endured a 7  hour plus bus ride to Reno on Friday night due to the lots of traffic and chain controls - Thank You Grady!!!. Fortunately, there was plenty of food and drinks (particularly beer) on board as well as scintillating conversation with acquaintances, new and old.  Tour leaders, Karen Soo, NSC Trip Director, and Amy Lew (no relationship) as always, outdid themselves with scrumptious dinners and breakfasts.Saturday, we skied and rode on surprising good snow coverage at Alpine Meadows.  We had such a good time, one or two members stayed on the mountain until, I believe, the lifts closed!
Sunday, we went to Northstar which, except for the lowest elevation runs, also had good coverage, albeit sometimes icy as there it was snowing at the upper elevations and sometimes raining at the lower slopes.  Nonetheless, we had a wonderful weekend playing in the snow! Sooooo, those of you who didn't go, you missed a snowtastic weekend.
Bill "Pseudonym" L. took the following  pictures  [Photos Link ] and videos [Videos Link].
April 6 – Saint Joseph's Hill Hike -
Last but not least, don't forget about Hoyt's Saint Joseph's Hill hike on April 6.
Great views of Lexington Reservoir to the West at the start and a sweeping view of the Santa Clara Valley to the East at the top.  There will still be monkey flowers, Scotch broom and remnants from the vineyards that supplied sacramental wine for the Novitiate in Los Gatos many years ago.
For details, see Hoyt's hike description.
~ Until next month – "Happy Trails to you" …~