Armand Gutierrez, President
Happy Chinese New Year!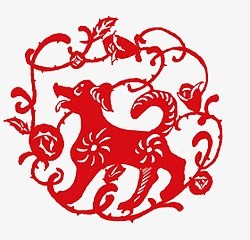 Welcome to the Chinese New Year of the Earth Dog! Yes, the Chinese New Year starts on Friday, February 16th. If you're a dog owner then you know the trials and tribulations of raising a puppy and witness as it matures to become more devoted to its owner. Mature dogs have the innate ability to care and protect their family, and if you were born under the sign of the Earth Dog then you carry those attributes as a social worker, parent, teacher, nurse or doctor. Do you know anyone in the club that fits the characteristics of the Earth Dog?
Why Bear Boxes in Tahoe?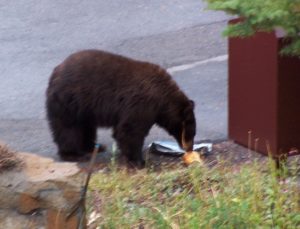 If you've spent any time at Tahoe I'm sure you have seen the bear boxes that cabin owners use for disposing of their trash. These bear boxes present a formidable challenge for the bears as they mosey around the neighborhood in search of snacks. This picture was taken at a cabin in Tahoe Vista that I used for my weekend ski trips.
Vail Ski Week 2018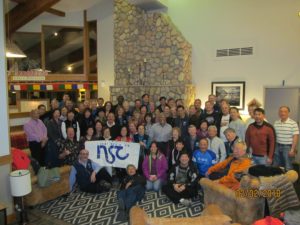 Our recent ski week to Vail will probably be thought of as one with "Memorable Moments". Well, maybe not "memorable" in a good way, because on the first day the second bus from DIA to Vail was almost two hours late leaving Denver. And although the buses arrived on time for our departure, the buses could not park in front of Vail International Condominiums because it was snowing and they couldn't make it up the driveway without slipping and sliding. Yes, it was our luck that it started snowing as we were leaving and that meant we had to carry the luggage about 50 yards to the buses. However, everything in-between worked out well – the Après Ski Party, the chaotic Potluck Dinner, the Farewell Dinner, and skiing under sunny-to-partly cloudy skies. Unfortunately, Vail (and other Colorado resorts) is suffering the same symptoms as Tahoe – lack of snow. Although our hoped-for powder skiing didn't materialize, there was enough coverage for everyone to enjoy themselves on the front-side trails, the back bowls, and Blue Sky Basin. Some runs were more challenging than others, but then, that's what makes skiing an exciting sport. At the Farewell Dinner I mentioned two possibilities for next year: Big Sky and Telluride. For the 2018-19 season Telluride will be part of the Epic Pass resorts. If you have any suggestions then please let me know at president@niseiskiclub.org.