Armand Gutierrez, NSC President
March is upon us and it appears that our major snowstorms are behind us. Of course, Mother Nature is always unpredictable and she may surprise us with a few more storms this month. With all the snow in Tahoe, Heavenly Valley and Northstar have extended their season by one week to April 23rd. Haven't heard anything about Squaw or Alpine yet but I'm sure they will be extending their season as well.
Just to give you an idea of how much it snowed in at Tahoe take a look at the two pictures. The boys digging out the ski lift are at Homewood, and the man-in-blue is at Northstar.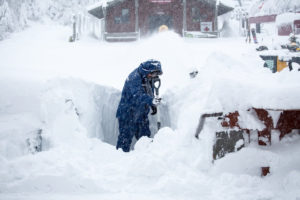 March NSC Weekend Trip
Although there's plenty of snow up at Tahoe there weren't enough signups for Trip 1 to Squaw Valley and Alpine Meadows. Our trip director, Karen Soo, did come up with a car-pool effort with eight people making a trip for a weekend of skiing/boarding.
Snowmass Ski Week 2017
The Snowmass trip was a great trip and everyone had a great time. Based on comments received, the Crestwood Condominiums received top-notch points for their service and amenities. There was plenty of snow at Snowmass, Aspen, and Aspen Highlands (don't know if anyone went to Buttermilk), and it did snow 1"-2" on Thursday. The Potluck Dinner was one of the highlights of the week. Instead of roaming around in search of condos with food, everyone gathered in the Independence Room at Crestwood feasting on endless tables of food. I would like to thank everyone for coming on this trip, as it was a lot of fun for everyone, meeting new friends, and exploring the various resorts.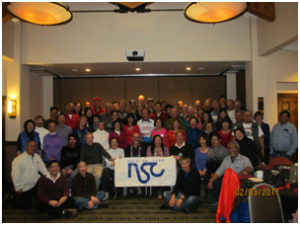 Board Nominations
Now that it's March it's time to think about Board Nominations for the 2017-18 season. If anyone has an interest in joining the board for the next season and has questions about what it entails then just drop a note to any of the current board members, or perhaps you have someone in mind to nominate for the board. Please keep in mind that the Nisei Ski Club relies on volunteers to be on the board and undertake the running of the club. It's not all work and no play. Board meetings are fairly informal and afterwards we usually go out for lunch and talk about skiing or upcoming club events.