~ Da Prez – Armand Gutierrez ~
Membership Activity
As expected, there were no new memberships for the month of December. However, now that the s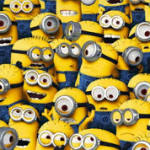 ki season has started and the Tahoe area looks promising perhaps we'll get a few more signups for our two weekend bus trips. Currently we have 92 members in the club.

Jackson Hole Ski Week (24-31 January 2015)
Our ski week trip to Jackson Hole is rapidly approaching and there's plenty of snow to satisfy your skiing needs! A recent check showed a base depth over 70" and compares with base depths of 32" at Heavenly, 42" at Squaw and 18" at Northstar. Hopefully you will have the opportunity to get in a few ski days prior to our departure.

Thanks to the many members that dropped by Casa Gutierrez for the Jackson Hole Orientation Meeting held on December
13th. It was great seeing a bunch of members that I normally don't see except during our picnics and the ski weeks. I'm looking forward to skiing with as many members as I can during this trip, unless, of course, you're planning on jumping into Corbet's Couloir. That would take a considerable amount of persuasion.
Ed. Note: for your entertainment, watch this Corbet's video: