Happy New Year to All!!!
And PRAY for rain & snow!  Anyone know any rain dances? Hey, maybe you can talk Armand into letting you go on the Sun Peak's trip.  Who knows, maybe there will be a cancellation and you can sneak in and ski or ride amongst Sun Peak's snow angels. While we have a dearth of snowfall in the Sierras, I know of people who have been having a good time skiing the limited man-made snow at some of the Tahoe resorts including your esteemed president, Armand!
Speaking of Armand, in his first  <<monthly president's message >> of the new year, he gives tips on how to become a better skier or snowboarder. So what's happening with the membership and the week long Sun Peaks trip?  Satiate your Walter Mitty dreams with Armand's <<membership and Sun Peaks report>>.  With the paucity of Tahoe snow, don't you wish you were going to Sun Peaks?? Your editor (me) has been on many of NSC's week trips and they've always been memorable. Keep this in mind for next year's trip!
GEAR TALK- this month, I thought I'd give you a brief primer about
snow goggles.  Since our club has a one or two Asian members, I want to point out that FINALLY, some manufacturers are producing "Asian Fit" goggles.  Are you tired of goggles riding high on your cheekbones uncomfortably or having cold air blowing through the gap above the bridge of your nose??? Well, relief "may" be available.  Some of the manufacturers that make "Asian Fit" goggles are: Oakley, Smiths, Anon and Dragon. In theory, these goggles may fit Asian faces better. Of course, everyone's faces are shaped differently.  I personally own a pair of Oakley "Asian Fit" A Frame goggles with spherical lenses, but they don't fit that much better than my regular fit Bolle goggles.  However, they do fit a bit better, nonetheless. As they say, "your mileage may vary".  That said, the most important aspect of goggle buying is FIT. When shopping for goggles, try on several pairs, paying attention to how they fit around your face, particularly around your nose.  A good fit will have even pressure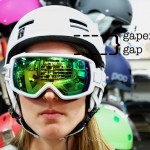 & sealing around your face.  Note that goggles come in many different sizes.  Women specific goggles tend to be a bit smaller, but non  gender specific goggles vary in sizes too.  Goggles should be wide enough to provide adequate peripheral vision.  If you wear a helmet, ensure that the goggle fit isn't adverse LENSES – most lenses are of double lens construction. Avoid single lens goggles as they have a tendency to fog up. A double lens is like a  home's thermal window, they provide a buffer of air between the lenses to prevent the cold outside air from directly affecting the inner lens, thus reducing fogging. To help prevent fogging, clear any snow that may accumulate on top of the goggles which can impede adequate air flow. Ensure that the fit is not affected by the helmet and that the goggles don't leave a big gap between it and the from of the helmet, unless you want a forehead brain freeze! Lens color- When do you wear goggles? All the time or just when it's snowing and
wear sunglasses when it's sunny? If you wear them even if it's sunny, then a darker lens may be more appropriate and also consider a mirrored lens to reduce glare. Unfortunately, darker lenses are disadvantageous if it clouds over or gets dark. If you wear goggles only when it's snowing, then lighter amber, yellow, orange or rose colored lens are good choices.  Amber/yellow/orange  and rose tinted lenses are probably not dark enough for use in bright sunny conditions.  Amber, yellow or orange lenses are better for contrast enabling you to see the changes in terrain better in low light while rose colored lenses are better for depth perception. Photochromatic lenses which automagically darken or lighten depending on the intensity of sunlight are available  but not common.  Polarized lenses reduce glare from the snow when sunny. Lens shape – higher quality goggles (and more expensive)
have spherical lenses instead of "flat" lenses. Spherical lenses should provide more peripheral vision as they bulge out from the goggle frame.  They should also provide better vision as the lens is more or less equidistant from your eye whereas on flat lenses, the center of the lens is closest to your eye and the rest of the lens is further from your eyes.  As a result, light hits a flat lens at different angles on different parts of the lens when on a spherical lens, light hits the lens at more consistent angles.  All of these factors should result in clearer, sharper, and less distorted vision.  Again, your results may vary.  Perhaps I'm not sensitive to it, but for my vision, I don't see much of a difference and I own both types – go figure!. OTG – Over The Glasses goggles (not to be confused with USB On The Go << tech joke!)- these  goggles are specifically designed for eyeglass wearers. OTG goggles are deeper to allow room for glasses and usually have a channel in the temple foam to allow room for the eyeglass arms. Wearing goggles over glasses often present fogging problems, so consider an OTG goggle with a built in fan such as the Smiths Knowledge Fan OTG.
GPS GOGGLES - For you well to do techies, you can now also get GPS enabled goggles ($500+!!!) with built in "heads up" displays that show speed, altitude and even where your friends are (in theory). Oakley, Smiths and Zeal are among the manufacturers that make these for the well heeled. Now if only they can display trail maps!
That's it for this month's tutorial, GOGGLES 101.
Until next month…your Ed.