~ By : Melissa Wong aka Fanatic Oakland A's fan ~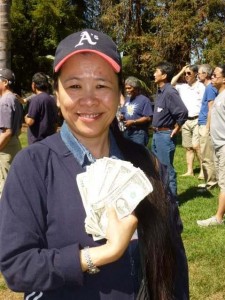 On a mildly warm day on August 9th, about 50 NSC members and their families and friends gathered in Sunnyvale's Las Palmas Park for the annual NSC picnic.
Immediately upon arrival, Karen got the setup crew (Wes, Armand, Frank, Curtis) going with assignments.  After setup, Head Chef Curtis started the grill and his rotation of sous chefs kept the mostly prompt arrivals fed with hot dogs, hamburgers and ribs.  I was given the task of greeting each attendee with a personalized name tag and a raffle ticket for wonderful prizes.  Attendees generously provided a variety of salads and chips/dips, fried chicken, egg rolls, tamales, sushi and lots of sweets.  An adequate amount of adult beverages were also consumed.
In the second half of the party, Karen drew the winning raffle tickets.  The lucky winners were given items from Trader Joes (Cookie butter, Jo Jo Cookies and Chocolate Bars). Soon after, the final anticipation of the afternoon came  - the popular dollar dice game (LEFT/ RIGHT / CENTER) .  Every adult was encouraged to participate.  Some appeared eagerly awaiting this game all day long while others who were unfamiliar needed encouragement.  As the inaugural and 2nd year champions, Amy and David T excused themselves from this year's contest.  Amy was later seen being a babysitter to little Kai while Mommy Michelle played on.
As many rounds of rolling took place and $1 bills were slowly thrown onto the center bin, Joe, Armand's nephew from L-o-n-g Island, needed a couple of timeouts and dipped into the beer cooler.  We witnessed the quick timeouts since the beer cooler was also used as a leg to elevate the bin.  As the contest finally came down to four and then two gamers, Melissa (that's me again!) was the last person standing, holding TWO $1 bills in hand.  I became the champion of the 3rd annual dice game of the NSC picnic.  My winning tally was $96.00!  I also have the pleasure of writing this lovely article for the monthly newsletter.
I hope everyone had an awesome time.  Obviously, I did!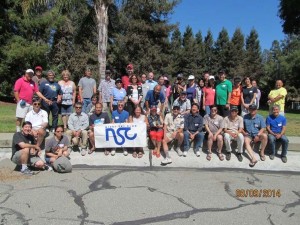 More pictures & videos, courtesy of Bill "Pseudonym" (what a nom de plume!) -
Video: