Sandy Kiyomura
If you haven't already heard, this is the El Nino Year. In an effort to create more opportunities to ski at Tahoe, NSC has established a Yahoo Groups for ride sharing called rideNSC@yahoogroups.com. The purpose of rideNSC is to connect people who need a ride with people who can offer a ride. So, you can offer a ride or ask for a ride.
It's simple. When you offer a ride, please state:
preferred dates
ski areas
where you might be staying
what the costs will be
Anyone who is part of rideNSC and is interested can respond to you.
To ge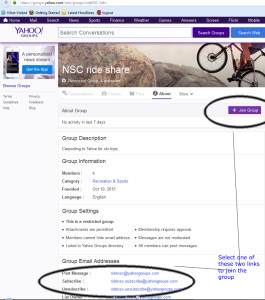 t started, visit the rideNSC group information page. If you have a Yahoo id, then click on Join Group. If you don't have a Yahoo id, click on the subscribe link.
I am the moderator and will approve (or disapprove) your membership. All members of the Nisei Ski Club can join the group. We ask for standard on-line etiquette. That means you should be "adult-like" in your postings. That means no offensive language or say anything that your mother would not approve of. Therefore, if you are interested in finding some new ski buddies this year, visit rideNSC group and start sending posts to ridensc@yahoogroups.com.
Questions? Send email to Skiyomura@gmail.com