Armand Gutierrez, NSC President
Squaw Valley kept their promise and had skiing on the 4th of July. I saw film clips on the news and there were plenty of people in shorts, tank tops, and a few bikini-clad girls. Not the greatest skiing, but more of a happening just to be on that single run on the slopes on Independence Day. Will there be a repeat next year?
60th NSC Anniversary in 2018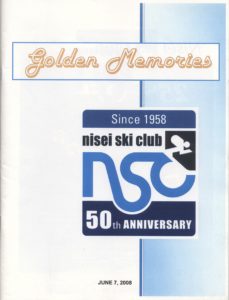 Next year NSC will be celebrating its 60th anniversary. Yes, the club was established in 1958 to serve an Asian community interested in skiing and social events. During those initial years the club grew to 300+ members and there were busloads of skiers heading to Tahoe for racing and skiing. As time passed the club got older and our membership has dropped to fewer than 100 members. I recall going to Vail in 2008 for the 50th anniversary, and that's why we are returning to Vail in 2018. In June 2008 the club held a 50th Anniversary Celebration "Golden Memories" held at the Holiday Inn in San Jose. The evening consisted of dinner, officer introductions, past president introductions, a silent auction, dancing, and Curtis Otaguro was president.
For our 60th anniversary it would be great if we could have another celebration. However, putting on a celebration requires manpower, and this is where you come in. This is a call for volunteers to form the NSC 60th Anniversary Committee. This committee will be responsible for coming up with a venue, task assignments, and whatever else needs to be performed. If you are interested in helping make this celebration come to life then drop me a line at president@niseiskiclub.org.
Snowbound Magazine
As president of NSC I often receive a variety of email promoting products, services, or notices from various ski resorts seeking our business for future trips. One particular email, from Snowbound Magazine, asked me to complete a short questionnaire on group travel tips. After completing the questionnaire I was contacted by the editor requesting my photograph and that my responses were going to be used for the next edition of Snowbound. Although my "mug shot" was not used in the article they did use several of my travel tips. A copy of the magazine is available on the Snowbound website.
Mountain View Obon Festival – July 15th and 16th
The Mountain View Obon Festival was a great success and I would like to thank the following volunteers: Bill Lee, Brian Hess, Ken Kato, Alex Kami, David Ng, and Tamara Liang. Once again NSC has stepped up to the plate and volunteered for this event.
Upcoming Events
September Pizza Social – September 10
Are you ready for some FOOTBALL! Yes, it's getting to be football season again. Our September Pizza Social will be on Sunday, September 10th at The Garret (Campbell) so we can gather around, quaff a few ales, dine on outstanding pizza, and watch the New York Giants and the Dallas Cowboys battle it out on the turf. Although the game starts at 5:30 we can meet at 6:30 and still catch most of the game. If you're planning on attending then let me know at president@niseiskiclub.org. And yes, el presidente is buying the beer.
NSC Bay Bridge Bike Ride – September 16
Get your bikes ready for a bike ride from Emeryville and across the Bay Bridge towards Treasure Island. Karen Soo and Sandy Kiyomura have laid out the route and are sponsoring this bike ride. See the flyer for details.
NSC Paint Nite in San Jose – October 7/8 or October 14/15
Are you the next Monet or Gauguin? My hidden talent definitely is not in painting, unless it's paint-by-numbers. I've never heard of Paint Nite but apparently it's quite the popular event (along with Escape Rooms). Check out the flyer for details on this upcoming event.
Vail Ski Week 2018
The Vail trip is moving along smoothly and we currently have 34 signups (out of 64). Take a look at the flyer and make that all-important decision to be on this trip. There's still time to get the Tahoe Local Pass through Sports America (Epic Pass – Nisei Ski Club), which will be good for five days skiing at Vail, plus skiing at Northstar, Heavenly Valley, and Kirkwood.