June has arrived and that signifies the start of the 2015-2016 NSC season. I'm really excited about this new season because following the elections we now have new board members to help guide NSC through this season. At our May board meeting the new board members were introduced, although most needed no introductions because they've been with NSC for a number of years and have served on the board in the past. One new member, David Schultz, is serving on the board for the first time and will be helping Hoyt Nelson with upcoming hikes. And Sandy Kiyomura was initially responsible for the Alameda Bike event held on May 30th.
Upcoming Events
Once again Hoyt, with assistance from David Schultz, is leading the SF Stairway Hike on July 12th. This is a very popular hike so be sure to gander at the flyer for details. The week after is the Mt. View Obon Festival on July 18th and 19th. This is an annual volunteer event that NSC participates in and is always a fun event. After all, there's a variety of food, carnival-style games, cultural events, lots of people, and the famous Beer Booth. There's room for a few more volunteers to work the Beer Booth so look for information in the newsletter or contact Karen Soo (tripdirector@niseiskiclub.org).
NSC Annual Membership Meeting and Luau Picnic, June28th
Mark this down in your calendar for the NSC Annual Picnic on June 28th at Las Palmas park in Sunnyvale (same place as last year). See the flyer in the newsletter and the Evite invitations have already been sent out. If you didn't get an Evite in the mail then please let me know (president@niseiskiclub.org).
Park City/Canyons Ski Week 2016
Plans are moving smoothly for the Park City/Canyons ski week trip for 2016. Take a look at the flyer and make that all-important decision to be on this trip. You might also consider getting the Tahoe Local Pass (http://www.skiheavenly.com/plan-your-trip/season-passes/season-passes-explorer.aspx), which will be good for five days of lifts at Park City/Canyons as well as Heavenly Valley, Northstar and Kirkwood.

FWSA Cortina d'Ampezzo Ski Week 2016
As a member of NSC you are eligible to participate in any of the FWSA/BAC ski trips. For 2016, FWSA is going to Cortina d'Ampezzo, on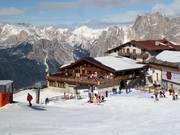 e of Italy's most famous and extensive ski towns. It boasts interesting slopes for all levels of skiers, 1200 kilometers of skiable terrain, 140 kilometers of ski trails and 43 lifts. This is one trip I'm planning on taking, along with a second week in Florence and Rome. If you're interested in joining me on this trip then contact me for details (president@niseiskiclub.org). And, yes, this trip is after our Park City/Canyons trip.