"I'm Dreaming of a White Christmas ~~ Just Like the One I Used to Know"  - I and my fellow board members are just like Bing Crosby – DREAMING of SNOW, as I'm sure is also true for all of our club members!
As of today, Dec 5, several ski areas have already opened, albeit, with limited operations.  Hopefully, the recent Tahoe snowfall portends greater things to come!  In fact, tonight's weather forecast for Squaw Valley is : Periods of snow becoming heavy, accumulating 4-8 inches; cold;  Hours of Precipitation: 7 hrs!!!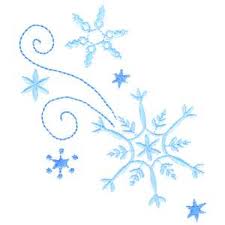 As soon as the semester ends, I hope to be able to break in my brand new shiny skis!!!   Woo Hoo – new toys!!!
Hopefully, many of you had the chance to attend the SnowBomb events in San Francisco and in San Jose. NSC had a presence at the Bay Area Ski Council (BAC) booth where Karen and Curtis represented our club at the ATT Park venue in San Francisco, while club president, Armand and Gary Lyon bestowed our club's incredible people and activities in San Jose.  Check out Armand's SnowBomb article and pics!
Don't forget to read Armand's monthly President's Message and Membership Report with an update on the upcoming Sun Peak's trip.
"DEAR SANTA, ALL I WANT FOR CHRISTMAS IS SNOW" penned by our esteemed trip director, Karen Soo has some very important updates regarding the weekend bus trip, particularly the loss of parking at the San Jose pickup.  We need your help in finding alternative parking in San Jose. The signup form for the weekend trip can be found here: ** weekend trip sign-up **
The next newsletter will bring in the NEW YEAR !  So until then I on behalf of the NSC Board, wish you all a great holiday, until next year, I bid you adieu…