Armand Gutierrez, NSC President
Are you ready for some skiing this season? If not, then feast your eyes on the photo that was recently taken at a well-known ski resort.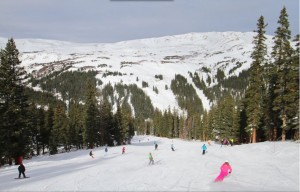 Yes, this place is already open for business! Granted, it's probably a lot of man-made snow mixed in with Mother Nature's early snowfall, but these people are already skiing (and you're not). And when do we get our share of the ski season? Well, Northstar and Heavenly are scheduled to open on November 20th, and Squaw Valley on the 25th, subject to weather conditions, of course. Karen Soo is already planning two weekend ski trips so look for details on dates and places in her write-up. It's been several years since NSC has had a weekend ski trip so it's muy importante that we get as many signups as we can to ensure that these trips are successful. As an added incentive, the first person to correctly identify the resort in the photo AND signup for the first weekend ski trip will get a free one-day lift ticket. Email your answer to president@niseiskiclub.org. (Board members excluded, deadline is 20 November, and only one answer per person so think carefully).
Snowbomb Ski Shows
It's not too late to sign up for the San Jose Snowbomb show on Nov 7-8. Greg Wong will be there on Saturday and I'll be there Sunday afternoon. Entry to the show is free by securing passes at this site: http://www.snowbomb.com/ski-board-festivals/ and scroll down and then click on "Purchase Tickets Here" under San Jose. Many thanks to Karen Soo and Curtis Otaguro for attending the SF Snowbomb show.
Park City/Canyons Ski Week 2016
The Park City/Canyons trip is moving along well and we currently have 45 signups. The second payment is due November 10th so be sure to remit your payment if you haven't already done so. Also, an email was sent out to everyone about a change in our return flight from Salt Lake City. We were scheduled to return at 8:10pm on flight UA5333, and the new schedule is 5:18pm on flight UA5765. For those of you making your own flight arrangements that means you might be able to take the return shuttle bus with the rest of the group.