Judy Hom, Newsletter Editor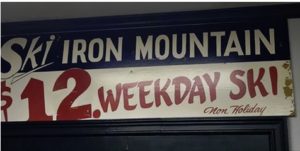 My husband Winston pointed out an article in the San Jose Mercury News about defunct ski areas, which mentioned long gone resorts like Powder Bowl, Echo Summit, Edelweiss, Donner Ski Ranch, Tannenbaum, and Iron Mountain. He learned how to ski at Dodge Ridge and Echo Summit. Dodge Ridge is still operating but Echo Summit is long gone. How many of you remember these old resorts?
Organized ski racing in California started in the 1850s. Gold miners strapped 14-15 foot edgeless skis on their feet and raced for cash prizes. It is said that skiers reached speeds of 80+ miles per hours and carried a long pole to act as a brake.
Snowshoe Thompson was an early California long pole skier. Originally from Norway, he came to California during the 1850 gold rush. Between 1856-1876, he delivered mail twice a month between Placerville, California and Genoa, Nevada. He covered the distance in 5 days, 3 days up and 2 days down.
Olympic Hill was the first ski resort in Lake Tahoe and opened in 1924. It is still open but now named Granlibakken. I googled it and it is a very small hill with only 1 run and 2 lifts.
Sugar Bowl opened in 1939. Sugar Bowl got its name because the founder thought the snow looked like sugar. It was the first resort to use chairlifts.
There was a proliferation of ski resorts through the 1970s. 82 resorts opened from 1940-1950. 107 opened in the 1970s. The great California drought in the mid-1970's took its toll and many resorts closed. Now, there are only about a dozen resorts in the Lake Tahoe area.
Resources
Mercury News – Defunct ski areas why healing is so hard
History of Skiing Lake Tahoe
History of California Skiing
Facebook – Lost Ski Areas and Ski History of California
Experience Skiing History in California Gold Country
Snowshoe Thompson