~ byline : David Tsuhako ~
On a beautiful and sunny Saturday in October, close to forty NSC skiers, boarders and friends congregated atLas PalmasParkfor some grub and gab. As usual, Karen (aka Taste Soo Good Catering) cooked up a feast of BBQ pulled pork sliders and coleslaw. And as people started arriving to the party, a variety of scrumptious dishes added to the spread.  We all had our fill sampling succulent fall-off the bone ribs, king egg rolls, Vietnamese spring rolls, roasted chicken, somen salad, various pasta salads, quinoa salads, mac salads, California rolls, maki sushi, tamale pies, bruschetta, cheese cakes, lemon bars, and 7 layer finger jello, to name a few.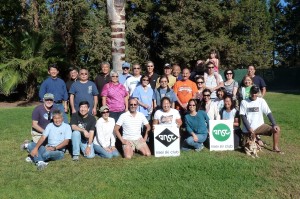 As we munched on the food, we caught up with fellow skiers and boarders to mentally gear up for the up coming season, and of course "prayed" for better snow this year than last.  For some of us, we had not seen each other since the ski season ended, so we enjoyed listening to peoples non-skiing adventures over the summer. Some debated over the latest political and economical state of the economy, while others learned about new movies or TV series they should watch. Those that came to the picnic early, caught a glimpse of one of our founding members, Hy Fuji, who dropped off his atomic skiis to donate to the club.
After lunch, Armand, standing on a picnic bench, called to order the NSC board meeting, introducing the current board members at the picnic: Armand (President), Frank (Treasurer), Karen (Trip Director), Morgan (Ex-Officio), Brian (Board member), Hoyt (Board member), and Curtis (Board member).  Like all good meetings, it was short and to the point. Week long trip to Steamboat still had openings if people are interested, Hy's skiis are for sale, Castle Rock hike was coming up as was anAcademyofSciencefield trip, and the weekend bus trips to Tahoe are in the planning phase.  Then we played the exciting game of Left, Right, Center, where the last person standing with a dollar bill gets to take home the "center" pot of money.  After 30 minutes of excitement, screams, and laughs among 18 participants, it was a battle between Morgan and I. Morgan rolls a push.  I roll a push, Yes! Morgan rolls another push.  Me too! Morgan rolls a Center.  I win!!!  With all that fun, we had to document it with photos (thanks to Bill for all the candid photos!) and a group picture—with the NSC sign of course!
Thanks to the board for putting this together. It was great seeing everyone and catching up with everyone. Hope to see you soon on future NSC events and lets all pray for good snow!
Thanks to Bill Lee, we have a photo chronicle of the day : >> Bill's PicNic Pics <<