Armand Gutierrez, NSC President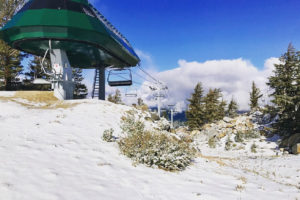 Seems like October was more summer-like than fall. Tahoe did experience some rainfall but all of the resorts are bare to the ground and it hasn't been cold enough to fire up the snowmaking machines. Does this mean a late winter start? And the weather forecasters haven't made up their collective minds on whether it's going to be an El Niño or a La Niña year. Nobody guessed the ski resort in the photo, and the correct answer was Sierra-at-Tahoe.
Upcoming Events
SnowBomb Shows in October/November
At the end of October the Snow Bomb show was held at the Santa Clara Convention center. Although I was planning on attending I wasn't able to make it due to a slight illness. Karen Soo and Curtis Otaguro usually attend the San Francisco event but Curtis was out of town and Karen was unable to attend.
Warren Miller Movie Night – November 11
Warren Miller is famous for his exciting ski/snowboard movies that take you all over the world in search of perfect snow conditions. Showtime is 6pm at the Heritage Theater (Campbell) on Saturday, November 11th.
Vail Ski Week 2018
The Vail trip is fully booked with 62 signups. Thanks to all that made their final payments on time, and to those of you that needed a reminder. Karen Soo is updating the sizing chart since the one on the signup page was for Marmot apparel and the new chart is for Port Authority. Not much difference but do check to see if you have any changes and reply to Karen's email. There is a waiting list so do let me know in the event that you may have to cancel (hopefully not!).