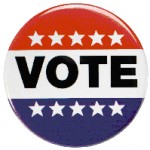 Did you VOTE???  If you didn't, you have no right to complain!!!
This month, we have a lot of things for y'all.  Coming up is another of Hoyt's popular hikes – on Nov 11, he will be leading the ever popular North Berkeley hike – see below for details.
STEAMBOAT – still 4 spots left, but time's running out.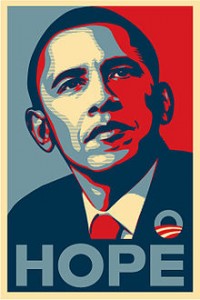 Las Palmas Picnic – David Tsuhako's picnic write up graces this month's newsletter along with Bill Lee's photo chronicle of the day.
Karen's Trip Director article unveils the 2012-2013 weekend trips..
And, of course, we have Armand's Presidential (get it?  Presidential, Nov elections…) which follows immediately.
Nisei Ski Club
November, 2012
President's Message
November is here and ski season is getting closer. Are you getting ready for the ski season? The recent storms bode well for what might be a good ski season. Squaw Valley had a special one-day opening and many ski resorts are planning on early opening dates: Heavenly and Northstar – Nov. 16, Kirkwood and Squaw Valley – Nov 21, and Alpine Meadows – Dec 7.
Karen Soo is finalizing the weekend ski trips and she'll be posting the schedule in an upcoming newsletter. However, our NSC trips are based on a minimum number of members signing up for the trips. Many of us were disappointed in
last year's ski season, which affected the number of bus trips we could offer. This year the season appears to be starting off with early snowfalls and early resort openings.  When the ski trip schedule is posted be sure to sign up so the trips can be scheduled accordingly.
Last month, there was first mention about a "ski mentoring" program and for any interested members to send me a note. So far there haven't been any responses, and implementation of a "ski mentoring" program can only happen when there is sufficient interest. If you're interested then send me a note (president@niseiskiclub.org) and indicate your ski level and area of interest.
The NSC picnic held last month was thoroughly enjoyed by everyone that attended. Good weather, plenty of food, and meeting former members contributed to a great event. One pleasant surprise was to see Hi Fujii attend for a brief visit. Sad to say, his visit had a main purpose – and that was to donate his Atomic skis to the club since he is now "retiring" from skiing due to health issues. As a lifetime NSC member, we may miss him on the ski slopes but hopefully Hi will participate in another picnic or NSC event.
Membership Activity – Our current membership stands at 49 members.
FWSA Innsbruck/Garmisch Ski Week
Innsbruck is the Tyrolean capital and hosted the Winter Olympics in 1964 and 1976. There are over 320 miles of trails easily accessible in 25 surrounding village resorts; and nine major ski areas that provide varied terrain for all levels of skiers.
If you're interested in joining me on this ski week vacation, or just have questions about skiing in Europe, then drop me a line (membership@niseiskiclub.org).

Steamboat Springs Update
by Morgan Hua
I have only 4 seats left (out of 30) for the Steamboat Trip.  If you're interested, please sign up ASAP.
Once I get the Fleece Souvenir embroidered, I will arrange for a get together to distribute the fleece and information packets.
That'll probably be in Dec.  Stay tuned.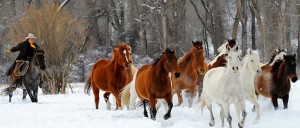 Karen Soo – Returning Trip Director
The first storm of the season fell last week. Squaw Valley had 3 feet of snow and they were open for one day. Lift Tickets costs $20.00 to ski one run.  Just imagine seeing the fall foliage with a blanket of snow on top.  It also rained on Halloween.  A positive sign that we're going to have a good season in 2013.
The cost of the NSC weekend trip is still being finalized. Based on the survey given at our NSC picnic, we are going to the following resorts –…. Click for >> Rest of Karen's Article<<
 Las Palmas Picnic – T'was a Beautiful Day to Picnic
~ byline : David Tsuhako ~
On a beautiful and sunny Saturday in October, close to forty NSC skiers, boarders and friends congregated atLas PalmasParkfor some grub and gab. As usual, Karen (aka Taste Soo Good Catering) cooked up a feast of BBQ pulled pork sliders and coleslaw. And as people started arriving to the party, a variety of scrumptious dishes added to the spread.  We all had our fill sampling succulent fall-off the bone ribs, king egg rolls, Vietnamese spring rolls, roasted chicken, somen salad, various pasta salads, quinoa salads, mac salads, California rolls, maki sushi, tamale pies, bruschetta, cheese cakes, lemon bars, and 7 layer finger …  >> Click here for the rest of David's report <<
North Berkeley Hike – Sat, Nov. 11
~led by Hoyt Nelson ~
Come join us trouping through the hills of N. Berkeley in the gardens of some of the most picturesque old  "designer" homes in the Bay Area. I have mapped out a route based on several hikes from my favorite hike book in this area: "Hidden Walks in the Bay Area" by Stephan Altschuler.  There is an adult concrete slide near the start so you may want to bring a sturdy cardboard "sled" of at least 3′ x 3′.  For more speed, firmly attach a sheet of wax paper to the bottom (not plastic cling wrap).
The slide is very close to the start so you can take it back to your car if you want before the rest of the hike. The pictures in this flyer are from the preview I did in March.
It should take about 3.5-4 hours and starts at the Berkeley Rose Garden (intersection of Euclid & Eunice – click => for a MAP <=) at 10 AM.  More details will be sent after you sign up.  Bring layered clothing, camera, strong hiking shoes, water and snacks/lunch.  Bathroom facilities are at the start and at our lunch stop at Cragmont Rock Park.  There are several restaurants I can suggest for lunch after the hike and/or you can bring something for our Cragmont Park stop.  Rain may cancel the trip.  I will keep signups informed.  For more info contact Hoyt Nelson at: berkeley@niseiskiclub.org.
Oct 20 Castle Rock Hike by Hoyt Nelson
Saturday was an absolutely beautiful day in the Santa Cruz mountains. The air was cool and clear with just a few wisps of fog draped over the distant hills which added still more interest to the already beautiful scenery that stretched nearly to the Santa Cruz bay. Ten of us (amazingly) got off to an on-time start, but the hike took almost 4 hours due to stops for the obligatory group photos and a longer-than- usual social break for lunch at the campgrounds just north of the upper end of our 5 mile squashed loop route. There were more rock scrambling spots along the trail than I remembered from my last
time here five years ago, but then, I've aged since then. There were, however a few new trail improvements in the form of fixed cables in a couple of short stretches, which a few of us really appreciated. We overtook a half dozen campers with large packs trying to negotiate one of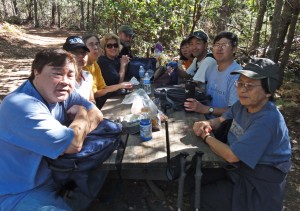 these sections and Joel volunteered to hoist one pretty heavy pack up and across for one
 of them. I guess I wasn't the only tired hiker since nobody wanted to take the extra ¼ mile trail up Castle Rock itself or the optional ¼ mile trail up from Saratoga to Hakone Gardens. That worked for me as well.