Armand Gutierrez, NSC President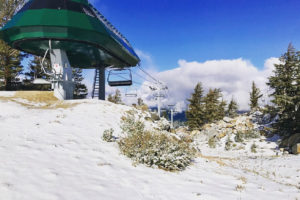 To everyone's surprise it snowed up in Tahoe and in numerous resorts in Colorado and Utah in September (the 21st). Although the early snowfall only resulted in a slight dusting of that fine, white powder at least it's a start for what hopefully will be a good winter season. If you're a seasoned ski veteran then perhaps you can identify the ski resort in the picture (hint: it's in California). Drop me a line (president@niseiskiclub.org) if you think you know the answer.
Upcoming Events
NSC Paint Night in San Jose – October 28
This event will be held on Saturday, October 28th, at the Grill-em Steak House in Campbell. See the flyer for all the details.
SnowBomb Shows in October/November
Coming up in October and November are the annual SnowBomb ski shows in Santa Clara (used to be San Jose) and San Francisco. I usually attend the San Jose event and Karen Soo and Curtis Otaguro attend the San Francisco event. We're looking for additional volunteers to support the BAC booth at both locations. As a volunteer you get free admission to the SnowBomb event, talk with people about the various clubs that are part of BAC, and do some self-promoting of NSC. Arrive early, or stay later, and visit the other ski-related booths or perhaps pick up something at one of the retail booths that have discounted prices on ski gear. The Santa Clara event is October 28-29 and the San Francisco event is November 4-5. If interested then drop me a line (president@niseiskiclub.org) or Karen Soo (tripdirector@niseskiclub.org).
Warren Miller Movie Night – November 11
Warren Miller is well-noted for his exciting ski/snowboard movies that take you all over the world in search of perfect snow conditions. Showtime is 6pm at the Heritage Theater (Campbell) on Saturday, November 11th.
Vail Ski Week 2018
The Vail trip is moving along smoothly and we currently have 55 signups (out of 64). If you haven't made your 2nd payment then go find your checkbook and send it in, plus your final payment. If you're still sitting on the fence about going and haven't signed up now is the time to do so. Deadline for signups is October 10th, which is also when the final payment is due.