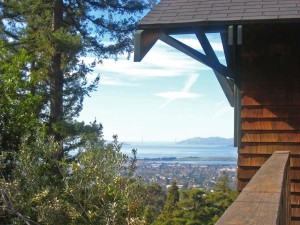 ~byline: Janet "hard butt" Gee ~
Back due to popular demand, Hoyt led six lucky members, to a repeat of his North Berkeley Hike on November 11th.  We really got our adrenaline going at the concrete slide at Cordonices Park.  Rod took the lead with a safe, conservative run using his feet as brakes, followed by Maggie.  Both Hoyt and myself were more aggressive and paid for it by landing squarely on our tailbones, while Karen had her Performance-Enhanced Cardboard mat with wax paper, which launched her three feet beyond, for the gold medal in slide jumping according to judges, Linda and Melissa, who wisely kept their feet on the ground.  Karen, Hoyt and I are still sore — owww!
We enjoyed great views of the bay, cool architecture of the homes, and of course, lots of stairs — some with colorful mosaic walls created by the neighbors.  We stopped for a snack at Cragmont Park where we tried to ID all the islands we could see in the bay, saw some rock climbers and found a few late blackberries on Keeler Path.  We even learned about Mayan history and culture from a painted mural on the way back to our start.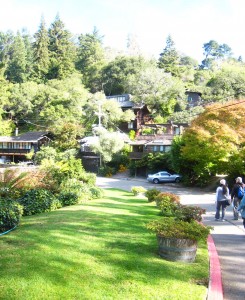 And what is a Nisei event without enjoying great food, so down the hill we drove to Karen's fav, Vik's Chaat House.  She and Hoyt ordered us a wide variety of Indian snacks, most of which lit my wimpy tastebuds on fire — lamb naan, poori, chicken biryani, veggie dosa — all really tasty!
Thanks again to Hoyt, our intrepid leader, whose hikes always take us somewhere interesting and scenic, whether wilderness or cityscapes — be sure to join us next time!